Data Security Cloud
Building the world's most secure cloud infrastructure platform.
Our highest security. Your peace of mind.
Data Security Cloud is a multi-tenant, secure-hosted cloud infrastructure platform built in collaboration with Intel® and VMware®. Through a secure hardware foundation, strict virtualization and segmentation controls, threat intelligence, and advanced physical security, the platform provides multi-layered data protection. Encryption and access controls inherent in the platform further help maintain the integrity and authenticity of the data in your environment.

Secure by Design
All the benefits of in-house security design with none of the complex work or need for risk management.

Low overhead. High value.
Enterprise-grade infrastructure at a cloud-based resource model to maximize your IT investments.

Trusted Experience.
Offload the time and risk associated with designing, installing, maintaining and protecting complex infrastructure.
"Our partnership with phoenixNAP has allowed us to speed up delivery of key services to our users. The solution gives us the control we need without the burden of supporting the whole infrastructure. This is key to our strategy of delivering service to a global organization with a small IT team."
– Jeremy Nutting, Director of IT, Ascent Aerospace
How Data Security Cloud Works
Data Security Cloud leverages the latest security technologies to ensure advanced data protection. By breaking away from the legacy of the past, we designed an entirely new networking fabric, leveraging the most modern, feasible Software-Defined Networking (SDN) technologies to create a reliable, resilient, and responsive communication platform.
Data Security Cloud is segmented into a management cluster and a compute cluster to optimize the resource availability to customer environments. It also minimizes the impact maintenance activities have on the compute platform. The result is the best performance characteristics to benefit your workloads and ensure cloud data security.
Hardware-Enhanced Security
Data Security Cloud is powered by Intel Xeon Scalable processors with Intel® Advanced Encryption Standard New Instructions that helps accelerate some of the compute-intensive steps of AES encryption in hardware. Additional Intel technologies are used to enable Zero Trust policies.
Micro-segmentation
VMware NSX provides networking and security foundation for Data Security Cloud. By enabling isolation of your virtual machines, it helps contain the impact in case of network penetration. Data Security Cloud is a VMware Cloud Verified solution.

End-Point Protection
In addition to this, we enabled deployment of industry-leading threat intelligence system to provide you with comprehensive insight into your platform. Directly integrated into Data Security Cloud, Sophos provides you with always-updated threat intelligence feeds and end-point protection.
Managed Detection and Response
Through our partnership with Alert Logic, we enabled you to add Managed Threat Detection and Response (MDR) features to your Data Security Cloud platform. This enables early intrusion detection of malware and malicious activity in your network, providing additional layer of cloud data security.

Integrated Backups
Your Data Security Cloud environment is integrated with Veeam backups, automatically creating copies of your data in the cloud. This enables you to quickly recover your data in case of cyber breaches, disaster, or accidental deletion.
Integrated with Encryption Management Platform
Another layer of security to Data Security Cloud could be added through our Encryption Management Platform (EMP) powered by Fortanix. As the world's first unified key management platform built on HSM-grade security, Fortanix Self-Defending Key Management System (SDKMS) provides a secure single-pane-of-glass for managing all your keys, secrets, and tokens. The platform ensures the highest level of data protection, while simplifying infrastructure and key management.
Locations
Now available in Phoenix, AZAshburn, VA
Features and Pricing
On-premise infrastructure requires space, power, environmental controls, security controls, and appropriate resources. Our Data Security Cloud gives you an opportunity to move your sensitive workloads from an on-premise, or colocation-based model, to secure cloud-based infrastructure with minimal upfront costs. This model lets you eliminate your CapEx while optimizing your OpEx costs: no need to buy hardware, software licenses, or hire IT professionals and deploy systems to manage and monitor your Infrastructure.
| Feature | DSC Essentials | DSC Advanced |
| --- | --- | --- |
| Network Micro-Segmentation | | |
| vCPU | | |
| vRAM | | |
| Storage (multiple tiers) | | |
| IPs | | |
| Bandwidth | | |
| Endpoint Protection | | |
| Veeam backup: Up to 50% of the allocated storage pool | | |
| Expert 24/7 SOC support | | |
| Anti-virus scanning | | |
| SOC 24/7 incident management | | |
| Security Posture Report | | |
| Always-updated threat intelligence feeds | | |
| Vulnerability scanning | | |
| Vulnerability and remediation intelligence | | |
| Machine learning and behavioral analytics | | |
| Threat risk intelligence | | |
| PCI scanning ASV support | | |
| | Order Now | Order Now |
Sophos Intercept X Advanced – one free agent per VM
AlertLogic Professional Package
Powered by Fortanix Self-Defending KMS (SDKMS)
FREE E-BOOK
Anatomy of a Secure Cloud Service
According to Heng & Kim (2016) of Gartner in 2020, 60% of businesses will suffer a failure of some sort, directly attributed to their internal IT team's inability to manage risk effectively. 87% of nearly 1200 global C-Level executives surveyed by E&Y say they needed 50% more funding to deal with the increased threat landscape. Download our free e-book to learn more about the current threat landscape and how Data Security Cloud helps you fight the risk.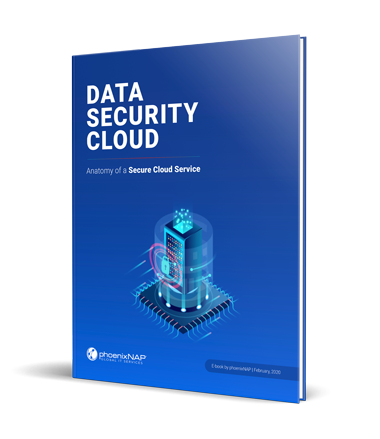 We live and breathe security.
So you don't have to.
Information, if lost, could be detrimental to your business. It is therefore prudent to assume that no organization is immune to cyber-attacks.
The fact that cyber attacks constantly grow in number testifies that it is not the question of if you will encounter an attack, but when. DSC allows you to minimize the attack vector, and in the unfortunate event of a successful attack such as Cryptoware, our additional cloud backup services enable quick recovery, without the need to deal with the uncertainty of paying a ransom in the hopes of recovery.
How to get started?
Our technical resources do the heavy-lifting to provision your environment for you. Contact us and our team will start working with you to:
Create the appropriate security-conscious design
Guide you in the configuration as you deploy your services into the environment
Keep a watchful eye on the security of your network, alerting you of anything we see at the infrastructure level
Optionally take on the operational responsibility of your server platform, monitoring and responding to Incidents of Compromise (IoC)
Managed Service contract with our Network Operations Center (NOC) or a Managed Security Services (MSS) contract with our Security Operations Center (SOC)